Testimonials

---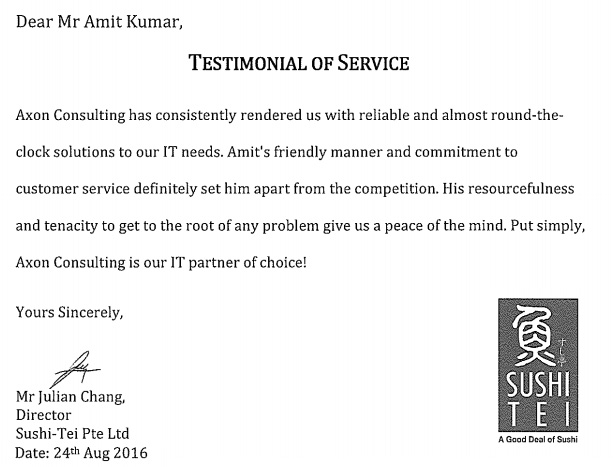 ---
Amit and his colleagues are professional, proactive and diligent. We don't think of AXON as our IT consultants, but rather an extension of our team. We can focus on doing what we do best, knowing we have their support 24/7!

Chloe Li, BES, MArch
Associate Principal
POMEROY STUDIO

---
I highly recommend Axon's web development services. Their team is professional, follows specs and works fast even dealing with most complex applications. They are quick at coming back with any revisions needed and understood our requirements perfectly.

Thank you Axon!

Yves Accad
Webmaster
Bridges of Peace International
http://www.bopint.org

---
Good luck, thanks for all your help so far and an extra special massive thanks to Amit from Axon for working from 11am-2am yesterday (with constant changes due to late breaking information) and for his patient hours on the phone this morning to go through the whole site line by line. Such an amazing job – thank you.

Have a good weekend,

All the best
Evelyn

Evelyn Newby
Leadership Coach

---
Cegos Asia Pacific has worked with Axon for a few years now. The web team are responsive and quick to act which is important for a business like ours. We have worked on two website projects and on both occasions the team were able to deliver on the project deadlines and requirements.

The main web designer allocated to the project (Fayaz) went well above what was required - often working outside of office hours to get the job done! We are grateful to have a supplier like this who is committed, focused and truly dedicated to our business. We feel that we are a valued client at all times.

The CEO also engages with us in emergency situations and he is never shy of getting involved to help where needed - which I find impressive given his own schedule and priorities. It is a pleasure doing business with Axon and I have no hesitation in recommending their web services.

Warm regards,

Meng Vuki
Channels, Partners & Communications Director
Cegos Asia Pacific
Mob: +65 92399802
www.cegos.com.sg

---
I have worked with Amit for 14 years and I am deeply impressed with his company's impeccable professionalism, highest level of integrity and unparalleled customer service .

Keep up the good work Amit and your team

Dave Phua
Managing Director
Training Edge International
www.trainingedgeasia.com
---
To Whom it may concern,

Mr Amit Kumar, MD of Axon Consulting, since 2002, has been of tremendous help and an asset to Maitreya Project International.

Have have provided excellent service in the area of maintaining our website, create e-flyers and providing IT solutions and suggestions. Some of it were completed within very short and pressurizing time lines.

Sincerely

Tara Melwani
Jay Gee Group
Director
http://www.jaygee.com.sg
---
I can't thank you enough! I really appreciate all your support and advise and we will continue with Axon for many more years to come.

Your mode of support and understanding of business implications and downtime via sms, whatsapp and email is unbelievable.

Thank you
Shalini Kapoor
CEO & Founder
Little Artist Pte Ltd
http://little-artists.com
---
Spa Synergy has been very pleased to work with Axon and Amit for the past year of their appointment.

Axon has been absolutely fantastic providing us with all kinds of IT services for our business and is always the one to solve all IT related hick ups can occur in an office where
we rely so much on our computers.

Amit is very committed to servicing his clients in the very best way. He is efficient, professional and reliable and we are happy to recommend him to any other company or individual
in needs of IT and web site solutions.

Maggie Gunning
Director
Spa Synergy Group
---
Hi there.To all of you involved in this - including the Axon team - thanks so much. This looks professional, modern, its about leads, its about engagement. I know we have tweaks ongoing to make but have to say this is a very solid job.

Well done to all - this looks great.

Jeremy

Jeremy BLAIN
Regional Managing Director
Cegos Asia Pacific
www.cegos.com.sg
---
It is not only a rarity to come across such a kind, dedicated and hard-working team, but also to enjoy working alongside with the entire team was such a pleasure due to their jovial and light-hearted personalities. From start to finish, they put in their best efforts. In fact, sometimes as early as6am I would receive an email with the changes done to the site.

I would definitely suggest Axon for their home IT Services, Website Development and SEO push. As a meticulous person by nature, they worked so very hard to fulfill my Website and SEO needs. My husband has been extremely happy with their IT Services as well. Thanks to Axon,I can happily say within 2 weeks- my website was successfully up and running."

Puja Kirpalani"Pamela"
Director
Inner High Living Pte Ltd
http://www.innerhighliving.com
---
Just a quick note of thanks for your extraordinary efforts this week to get ICF online voting implemented. You and your team are so dedicated...hard working...not to mention professional!

Axon is a trusted partner of ICF, always persevering, no matter what the timing (can you say 12midnight??!) or content. We truly value your commitment to the ICF Singapore chapter.

All the best,
Susan Sadler, ACC
President
ICF Singapore Chapter
www.icfsingapore.org
---
Hi Amit

Here's the testimonial .....which you team truly deserve.

Thank you once again Axon!

Your team has once again solved all of our technical problems when all the other consultants failed on your site.

Your company prevented hackers to our two other websites since taking over security, for the last 4 years. Recently we again engage Axon to overcome several complex technical issues that our present consultants could not solve and with a 10 day deadline.

Axon once again rose to the occasion and solved all the problems by the Nth hour!.

Calvin Hwang
www.healthdeal.sg
Director, ArtReps
---
Good morning Amit,

I wanted to take this time to share with you this testimonial for the work that Elam has done for Experiential.

"It is a pleasure having Elam of Axon Consulting working on the Experiential website. Elam is always professional and courteous when it comes to handling my requests. I love it that he first acknowledges my email and then gives me some idea as to how long the amendment or project will take, thereby managing my expectations. More importantly, he is timely and true to his word and gets the job done when he says he will. He is a joy to work with.

Elam has even been helpful to me on a weekend when most people would not bother to respond. Thanks for that Elam, I appreciated that."

With warmest regards,

Pamela Wigglesworth
www.experiential.sg
---
Axon Consulting have taken care of all of my website needs for the last 2 years and I have found their service outstanding as well as great value.

My websites were designed in a very collaborative way – with lots of patience and understanding from Axon staff. Whenever changes need to be made they are done quickly and accurately with regular follow up to check that everything was to my liking.

Most of all Axon is always looking for ways to improve my websites and do not hesitate to offer ideas which are always an enhancement to my products.

With Axon I really feel I have a business partner and not just a service provider and I would recommend them without hesitation.


Philip Merry
www.PhilipMerry.com
Founder & CEO
---
Hi Aaron and Amit,

I'd like to thank Aaron for all his help, fixing the virus in our pc and reformatting and reinstalling everything again.

He gave wonderful service, is professional and it is a real pleasure to work with someone with that much diligence and initiative.

Much appreciated and thanks again.

Kind regards,

Kim Rose Allen and Eric
Managing Director
Zhai Pte Ltd
www.zhai.com.sg
---
On behalf of the Committee and its Members, the Swiss Business Association would like to congratulate you for the fantastic and speedy work delivered in designing and rolling out phase 1 of our website.


Christian Pauli
Chairman
Swiss Business Association
---
I had a lengthy chat with Hanslee earlier this evening and he was telling me how appreciative he is for all the work your team has done to make the ITS event CMS project successful.

Hanslee Azhar
Director
Integrated Technologies Singapore
---
Dear Amit,

Yes, everything is working fine. You are a true professional. Please accept my sincere compliments.

Thank you very much.

Dzmitry Shershan
Company Director
Belazia Pte.Ltd.
www.belazia.sg
---
Working with Amit and his team at the Axon Group was such a great pleasure! Their work is extremely efficient, clean and fast. They are such a professional team; I would advice anyone to have their web development done with them.

Thanks for the great work!!

Rania Accad
SensiTouch Asia
---
We are please to note our satisfaction with Junnie and Fayaz from AXON Consulting.

They are passionate in their job and has delivered a high level of professional services and responsibilities. Both are very competent and committed engineers.

They are also knowledgeable and worked to do the job even if this meant long hours.

Great to work with Junnie and Fayaz.

Thanks to all AXON Team members.

Excellent Service!!!

Kind Regards

Annie Yeo
Pasona Singapore Pte Ltd
www.pasona.com.sg
---
Thanks Axon entire team for great work on our website. I hope everyone likes it as much as I do - I think the design is superb, and although I sent you a lot of emails it was almost spot on from the very first demo - was just the kind of format I was hoping for.

Amit - thanks for all your time presenting to us - your tremendous enthusiasm and portfolio were what sold it to me - seems Axon is something of a market leader in condo websites even though this seems to be just one of many things you do!

I'd be delighted, am very pleased with our end product and its been fun to work with you all. Will put something together in the next week or so for you.

Great to work with you all

Thanks and best regards

Eleanor Doyle
2013 Counsel Board Member
http://www.thesixthavenueresidences.com
---
Axon's X-factor lies in its leadeship. Just like a ship can't sail without a captain, Axon wouldn't be where it is without Amit Kumar.

Amit is an exceptionally dedicated and professional leader. He takes on any challenge thrown at him - be it big or small - with gusto and more often than not, he is successful. Over the years, his tenacity and sheer hard work has earned him the respect and trust of his clients, staff and trade partners.

We have called him late at night, in the wee hours of the morning and even when he is away on family holidays. He has always attended to us and dealt with our issues very efiiciently and effectively. He is always "there" 24 by 7 which makes his clients feel very protected. Amit treats all his clients, irregardless of the dollar value they bring to Axon with equality and utmost respect.
In today's day & age, we have yet to come across another service provider who goes "a mile for the clients' smile".

Thank you Amit & Team Axon.

Best Wishes,

Shalini Shroff
Director
Loyal LLP
www.loyal.com.
---
It was simply amazing to work with Axon and Amit. The vast experience in the Axon management to handle any situation arises from counsel members with regards to IT/Booking System make our job mush easier. Last but not least, the admin support team ( ida/imran) handling our day to day queries effectively and IT support team ( sankar/robin) looking into technical issues makes managing our booking system a breeze for years as CM are not IT savvy.

Most IT providers provide remote support as they oursource, but for Axon, I can easily call and go to their Axon office for training or slight enhancements or even clarify any IT doubts with his team anytime of the day as they provide comprehensive support on all IT areas.

Thank you Amit and entire Axon Team.

Andy, CM
Haig Court Condominium
http://www.haigcourt.com
---
---
[ Return to Top ]
---